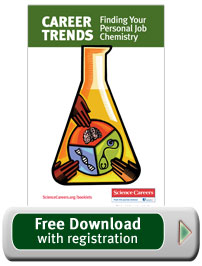 Career Trends:
Finding Your Personal Job Chemistry

The keys to building a fulfilling career go far beyond the daily tasks of the job. Real success comes to those
scientists who find themselves working in an environment that suits not only their skill sets but their personalities as well. Finding this balance can mean the difference between a
tolerable job and a truly rewarding career.

Science Careers has written extensively over the years about how to think about your career in an effort to lead you down a path that is tailored
for you. In this booklet - "Finding Your Personal Job
Chemistry" - the goal is to help you assess your own strengths, and perhaps your weaknesses, to find the best fit for you in the scientific landscape.

To download the booklet, just sign up for a free account on ScienceCareers.org. Your welcome e-mail will include a link to this booklet and all of our other career advice booklets.

Register and get your complimentary booklet today!

Produced by the Science/AAAS Custom Publishing Office and Science Careers. Science Careers,
the free career resource from Science/AAAS, offers free tools and articles to help you find a new job, advance your career, and stay current with industry trends.